Chris Marnewick Questions Why Men Murder at the Launch of Clarence van Buuren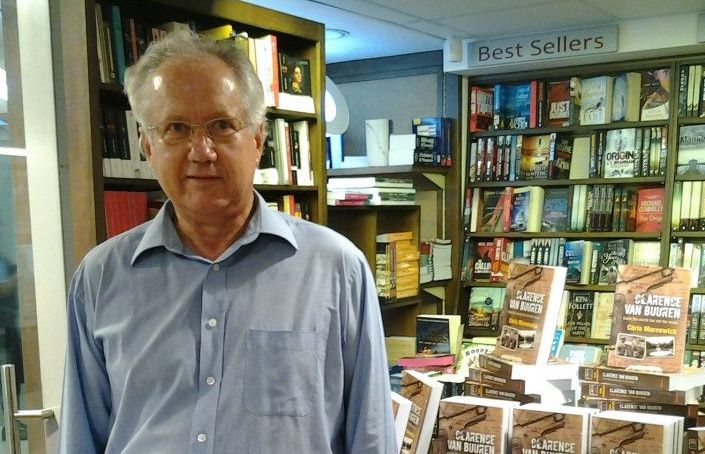 While South Africa is currently gripped by the proceedings of a different murder case, Chris Marnewick's Clarence van Buuren Knew the Words But Not the Music, a work of non-fiction about a murder trial from the 1950s that intrigued him since he was eight years old, was launched at Adams Books in Musgrave, Durban.
Originally written in Afrikaans, and called Clarence van Buuren: Die man agter die donkerbril, the translation was published by Protea Boekhuis late last year. At the launch, Marnewick, a retired senior advocate who worked in Durban for many years, but who now lives in New Zealand, explained that writing the book enabled him to find closure for his "obsession" with this case.
In 1956, 18-year-old Myrna Aken was given a lift by a salesperson, Clarence van Buuren, in Durban. A few days later her naked disfigured body was found on the south coast with the help of a medium. Marnewick, who was at the time only a boy, living in Johannesburg, followed the story closely in the newspapers. By day he would read about the case and Van Buuren's eventual hanging. By night he would be haunted by nightmares about the murder and the accused's claims that he was innocent.
"A psychic was the first person to find the body. My book is partly about whether there is any real substance in that claim," he said. He also examines Van Buuren's claims that he was innocent, investigating rumours that Aken had had an affair with him. "I also look at the curious parallel between the lives of the police officer, Frans Steenkamp, investigating the case, who left school at 16 because he had no money for school books, and ten years later became a detective sergeant, and the killer who ran away from school at 16, stole a car, was involved in several crimes and imprisoned for five years before writing his exams, qualifying as an engineer, and then for three years leading what appears to be an ordinary life with his wife and two children," he says.
Marnewick mentioned some of his main sources: a journalist called Gehri Strauss, who had done a series of interviews with the accused while he was imprisoned, and published the stories in The Star. He said Strauss was "objective but empathetic". After Strauss' death, his long-term partner Ricky Hamilton gave Marnewick a battered old cardboard suitcase that Strauss had kept full of newspaper reports and magazine articles on the case. Also in the suitcase were notebooks, revealing Strauss' thoughts as he followed the case, and photographs of the crowds at the trial, the accused and the policemen who caught him, the prosecutors and various locations identified in the investigation. Marnewick brought the suitcase with him to the launch, saying that without it there would have been no book.
He also mentioned the late investigating officer Frans Steenkamp's wife, Maxi, who had kept the Van Buuren docket after her husband's death, and allowed Marnewick to use it for his research.
Marnewick explained that the book works as an analysis of Van Buuren's mental state, and possible motivations for the murder. Why, when he led such a comfortable life, did he commit such a heinous crime? He said the same questions can be asked about Oscar Pistorius, who has been charged with murdering his girlfriend, Reeva Steenkamp. Marnewick said he believes in tangible evil that exists in men, that makes them commit crimes against women.
During the question and answer session, a member of the audience asked Marnewick whether he believed in capital punishment. He said he did not, although he invites the reader to make up his/her own mind in this book. He expressed concern that the act of killing changes one, saying he thought it was bad for the executioners to be doing such work.
Next up for Marnewick is a legal book about bail, followed by a novel, with "lots of sex". He said he plans for it to be a detective story set in South Africa.
Facebook gallery
Book details
eBook options – Download now!
---